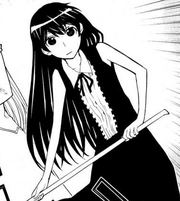 Madeleine is a Mermaid who has served under Emile and Sylvia. In the past, a curse was placed upon her because she fell in love with a human. This curse allowed her to walk on land, but left her speechless; if she spoke, she would die. It is hinted that Sylvia is the one who placed this curse onto Madeleine, somehow. That is why Sylvia was the one to reveal her name as well as remove the curse.
Nine years in the future timeline, a grown-up Madeleine is serving under Sylvia.
Relationships
[
]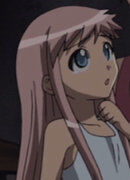 Madeleine became Emile's Blood Warrior. After dying to save Keziah, Emile resurrected her with the intent of using mermaid lore to gain immortality. After his death, Emile would later resurrect Keziah as a flame warrior, who would pass on the flame of life to her.
After Emile died of his illness, Sylvia made him her Blood Warrior. This automatically placed Madeleine under her possession. However, after reaching her phoenix form, Sylvia abandoned her servants. This puts Madeleine and Mikasa at the risk of dying for good. Fortunately, Keziah was resurrected as a flame warrior and was able to give Madeleine the flame of life while Mikasa received Trioxin.
Trivia
[
]
In the anime she is shown to have pink hair, however it is black in the manga and the OVA.